A substance free workplace benefits both your business and your employees. The business benefits from increased productivity and profitability while fulfilling its obligation to protect employee and client safety. Your employees benefit from a safe and compassionate workplace that prioritizes their health and wellbeing.
Onsite collections can help maintain the integrity of the drug testing process.  When sending an employee offsite for a drug test, there is ample opportunity to try and cheat the test.  Onsite drug testing services can help your drug and alcohol-free policy enforce and support a safe working environment. 
Dual State Fire & Safety have qualified technicians to administer collection and testing at your location for pre-employment drug testing, random drug test, emergency drug check and even site wide testing. Contact us online or at 870-862-6200 for more information about our Onsite Drug Testing testing service.
Instant urine and saliva tests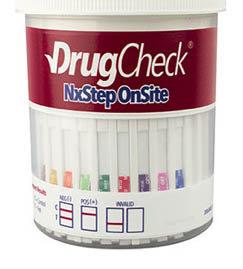 DrugCheck® onsite screening devices are well known in the industry for easy-to-read devices that incorporate single drug, color-coded test strips. All DrugCheck urine test cups, dips, and the SalivaScan™ oral fluid drug test use common color coding for quick recognition of individual drug strips.
Express Diagnostics offers devices and configurations specifically for the international market, including custom drug cutoffs for urinalysis and saliva.
Multiple drugs and cutoffs available
cGMP compliant, ISO 13485:2003-certified manufacturer
CE certified